Espresso
The espresso shot is the soul of all of our espresso based beverages with its smooth, rich flavor. It was created with a blend of different coffee to be either sipped straight or to be added to steamed milk. A fresh espresso shot forms three layers: the crema, the body, & the dark intense heart. the crema is the part that holds the complex flavor of the shot, but it quickly dissipates which is why Morningstar's baristas add the shots to your beverage within 10 seconds of brewing it.
Brewed Coffee
At all times, Morningstar Coffee Creations offers three choices of freshly brewed coffee.  The Morningstar's House Blend is our signature blend that has carefully been refined to bring a great cup of drip coffee into your cup.  It is not too bold, but has a fabulous round, balanced quality that brings all of the great coffee flavors together. 
The second & third coffees that we offer are designed to introduce you to different coffees that you may not have experienced before.  We brew both a rotating coffee of the week & a decaf coffee of the week.  We offer a wide variety of coffees including: Kenya AA, Guatemala Antigua & Fair Trade Colombian Popayan.  Come on by & see what interesting coffees we have brewing this week.
Decaffeinated 
Coffee beans in their green (unroasted) state can be decaffeinated using one of two processing methods: Swiss Water or Chemical.  we use both methods depending on how strong the flavor profile of the coffee beans are.  The Swiss Water process uses water in which the beans are soaked & then uses charcoal & carbon to filter out the caffeine.  Since the beans are soaked in water, more of the oils & flavor of the beans are striped away.
The chemical method starts off with the beans being placed in rotating drum & softened by steam for approximately 30 minutes. they are repeatedly rinsed for about 10 hours with methylene chloride which removes the caffeine from the beans.  The caffeine-laden solvent is drained away & the the beans are steamed for a second time for 8 to 12 hours so that the remaining solvent can evaporate.  Finally, air or vacuum drying removes the excess moisture from the decaffeinated beans.  Virtually no solvent residue remains after roasting the beans.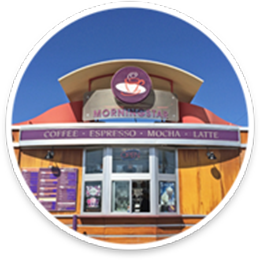 DRIVE THRU COFFEE
11911 Montgomery Road
Montgomery, Ohio 45249
Get Directions
OPEN DAILY
Mon - Sat: 6am - 3pm
Saturday: 7am - 2pm
Sunday: Closed