Cappuccino
Truly an Italian beverage! Inherited from the traditions of Northern Italy, this drink marries the coffee flavor in both milk & the milk foam, giving this beverage a richness that will be discovered on your very first sip. this drink has a strong coffee profile & is a great morning cup. Equal parts milk & milk foam are poured through the golden crema of espresso coffee.
Cafe Latte
Started in Seattle, the latte is a milder version of the popular cappuccino.  The latte has the same amount of espresso as the cappuccino, but with more milk that dilutes the coffee flavor and a think layer of foam on the top.
Caramel Macchiato
This popular drink has a great body & looks like a work of art.  Made with the finest vanilla flavoring in fresh steam milk & espresso, their flavorful drink is then topped with a drizzle of caramel.  This beverage naturally enhances the flavor of espresso.
Cafe Mocha
Espresso coffee, chocolate & steamed milk - perfect!  Our dark Ghirardelli chocolate & our own rich espresso is topped with whipped cream.  It is a chocolate lover's dream!
White Chocolate Mocha
A sweeter version of the Cafe Mocha made with premium Ghirardelli white chocolate & topped with whipped cream.  If you love white chocolate, you'll love this drink!
Cafe Americano
made with espresso shots with added hot water, it is speculated that this drink came from American soldiers that occupied Italy during World War II, who asked for their espresso to be watered down to more closely resemble what they considered coffee to be.
Cafe au Lait
Sometimes called a Cafe Misto.  Composed of half brewed coffee & half steamed milk, this drink is for those who prefer a lighter coffee flavor but don't want cold milk cooling down their beverage.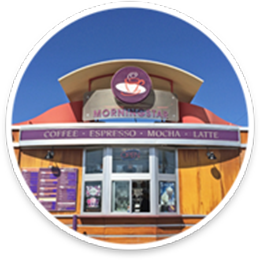 DRIVE THRU COFFEE
11911 Montgomery Road
Montgomery, Ohio 45249
Get Directions
OPEN DAILY
Mon - Sat: 6am - 3pm
Saturday: 7am - 2pm
Sunday: Closed